PROGRAMS
Thanks to some rather amazing people in the PC we wouldn't have some of the old programs you'll find on this page. I'm hosting them here since their original creators are long gone from the community and their sites vanished or are non-functional, and these tools are still rather useful today despite their age. With that said, obviously I did not make them and am not responsible for any issues that may result with your game or computer. Use at your own risk---but if you're pretty familiar with a computer by now and follow the instructions, you shouldn't really have any trouble. :)

PLAYSCENE CONVERTER
The Playscene Converter is a program that can fix sound issues in your custom Petz 4 playscenes. It originated from APKC.

Quoted from APKC:
"This program is for Petz 4 only. DO NOT use it for other versions of Petz.

The Play Scene Converter program was written by my hubby Andy. We have noticed that more than half the people using the Playscene Editor in Petz 4 either couldn't hear sounds in their finished scene, or couldn't get downloaded Play Scenes to show up. Well now you can do both!

By using this new program you can convert the sounds so you can hear them and convert downloaded Play Scenes to make them show up. The Play Scene Converter Package is a .exe file; the size of the file is 41kb.

Unzip its contents into 1 folder--the default is C:\Play Scene Converter. To use the program close Petz 4, then double click on the Play Scene Converter.exe file contained in the Play Scene Converter folder. Enjoy your new Play Scenes!!

Disclaimer: I hold no responsibility if this program causes any damage to your computer or software. The Play scene Converter is designed for Windows 95, 98, XP and 2000."
*DOWNLOAD*


Please note: While the readme says the converter is designed for Windows 95-2000, the program DOES actually work for newer versions of Windows! :D
Also, if you are using external sounds in your custom scenes and making those scenes available for download, you will need to include those sounds with your scenes when putting them up for download.

RUNAWAY RESCUE
The Runaway Rescue program was originally made by Firebird of MK&C. This program will help bring back your runaway petz, with instructions in the program to show you how. PLEASE be sure to make a back-up of your .pet files BEFORE running them through the program as there is always the risk of corrupting your .pet files and losing them forever.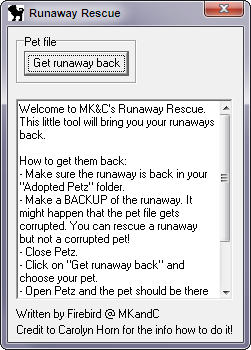 *DOWNLOAD*
______
copyright © kel 2006+ :: images © their original creators
stuck in frames? break out!